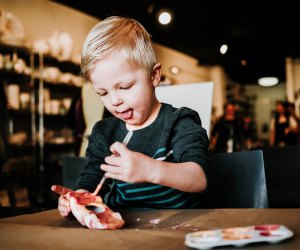 20 Things To Do with Preschoolers in the Hartford Area
This place is a toddler/preschool dream come true. Specifically designed for children ages 5 and under, everything in this museum is on one floor and at child-height. They have a beautiful collection of well-taken care of animals which they use for education and the children can see up close. Children can also explore the pretend-farm area, a kid-size post office, vegetable stand, and schoolhouse. You will end up spending the whole morning here and then someone will take a nap later.
Let's get the wiggles out. Launch is a great place for your child's gross-motor skills to develop on their trampolines and in their foam pit. During "Toddler Time," staff will actually lead the littles in activities as well as play some light-hearted dodge-ball. This is a weekly class.
Learning to swim and learn to skate are the two essential skills of childhood. "Tots Learn to Skate" is a regular class offered weekly. If you are more interested in an Open Skating experience, there is a weekday public skate from noon to 1 pm and on Saturdays from 4 pm to 6 pm. Skate rental is available.
What preschooler wouldn't be amazed at huge planes, a real helicopter, and a hot air balloon? This is a large facility with a lot to see. Specifically for preschoolers, there is a dress up area where kids can don the uniform of an astronaut or pilot, as well as a cockpit they can sit in and move peddles and maneuver controls. NEAM offers regular Open Cockpit Days where they open up several planes for people to sit in as well as vacation week activities.
My son still talks about our visit here and wants to go back soon. This is a fun place with several different interesting centers to play in. When you walk in, you see the grocery store complete with old-fashioned cash register and conveyer for your groceries. There is a fun place where kids can send handkerchiefs swooping into the air and where they can move sand on a sand table and see it's changing topography. On the second floor, you'll meet the robot (a little scary for some) and start splashing around in the water table (raincoats available). And there is so much more to see but I won't spoil it for you.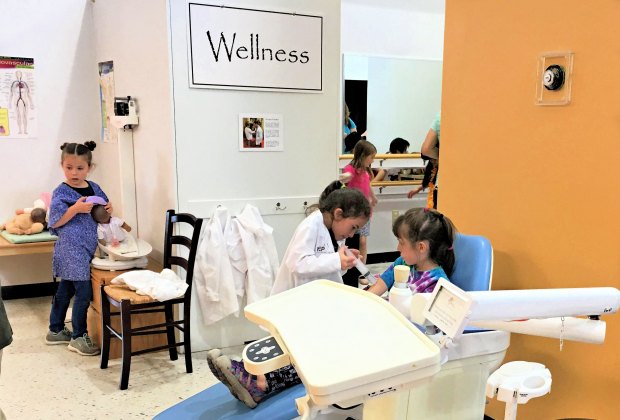 Budding physicians practice their skills at Imagine Nation. Photo by Clementina Verge
The Children's Museum is a fun place to visit with three floors of interesting science. One of the nice things about TCM is that they change one of their major exhibits often giving kids something new to look at. They also have a huge number of animals, both indoor and outdoor, which they take very good care of. Don't miss the butterfly house during the warm months. TCM offers varied programming (especially during school vacations and summer).
Do you have a dinosaur lover? This is the place to go. This state park was erected on the property where actual footprints were found (and you can see them inside). They have created an amazing diorama and to set the mood it comes complete with sound and lights (not too scary, not too flashy). When you arrive you will be offered a short video about Connecticut dinosaurs to watch and then you can stroll the museum, look at footprints, see short videos about the discovery and CT's history, and touch a lot of interesting displays. After that, there is a hands-on room where kids can make footprint bookmarks, play with dino toys, etc. Don't forget to go outside too where there is a board-walked trail to follow in the woods as you and your children imagine you are dinosaurs.
Not one of those crafty moms? How about an art class for your preschooler? Teach Art 2 Me offers art classes on Tuesdays (check website for details). In "Creative Kids" they will make something different every week, while in "Animal Antics" they will make art based on creatures in nature. Grown-ups welcome, but drop offs must be fully potty-trained.
Imagine a room where you kids could jump around and bump into things and not get hurt? If you have an accident prone kiddo like mine, you would be thrilled! Bounce Town is open for Free Play Mondays through Thursdays from 10 am to 5 pm. This is a carpeted, large room that is lined with air-filled bounce houses, slides, and fun obstacle courses.
A group of dedicated teachers will guide your students on their art experience in classes designed for 4.5 to 5.5 year olds. This class will help your children with finite motor skills as they step out and try to create new things from subjects like animals, still life, art history, vehicles, and buildings. The lessons are guided and utilize many different types of media. See website for class descriptions and pricing.
Have a preschool interested in music, singing, or learning about instruments? MusicMakers offers Little Mozarts, a private class for kids where they learn about music through a story-book approach. Beethoven Bear, Puccini Pooch, and Mozart Mouse all come alive to make music real for your preschooler.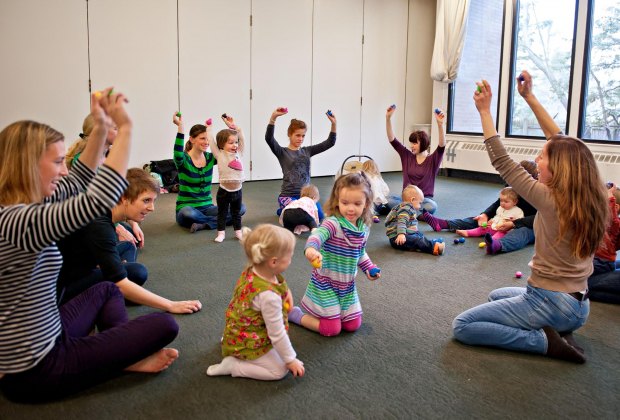 Music Together WHFV class encourages kid and parent participation. Photo by Cheyney Barrieau
MusicTogether offers preschoolers a few options for learning about and being exposed to music. The "Mixed-Age" class is a class that your 5 year old and come to and so can his baby sister. In the class children will participate in soft, gentle songs as well as stand up and move around songs using, yes, percussion instruments. For children who are 4 to 5 years old, "Rhythm Kids" might be just the thing for them. This class is designed specifically for pre-schoolers. Check out the website for locations.
The Glastonbury Audubon is one of several Audubon locations in Connecticut that offer nature-related activities for kids of all ages. Specifically for the younger set, is a class called Budding Naturalists which meets weekly. Children will learn about the animals who live at the center (turtle, snakes, bunny, fish, frog) and how each one is special and unique and perfectly adapted to it's environment. The Center sits on Earle Park which is accessible for a nature walk dawn to dusk. Easy trails with a lot to see.
My Gym - multiple locations
Tons of fun at My Gym. Open Play or guided class, My Gym offers a lot of options for preschoolers to get active and use their muscles as well as their brains. They even have a class called "My Gym Preschool Prep" where they include learning your ABC's and 123's. There are so many options too: Might Mites, Ninja Training, Gymnastics and drop in Play Time.
A beautiful place to hike and explore the nature center, Roaring Brook Nature Center offers several guided classes that will intrigue your preschooler and expose them to the outdoors. "Tiny Tots Story-time" is a 0-5 drop-in program that uses crafts and stories to teach children about things in nature. It meets Wednesdays, please check the website for dates. Another option is "Tree Huggers" (a collaboration program with MIMMO) where kids will get outside and hike, do crafts and play games.
Here's an alternative if you are looking to have your child get some exercise. Yoga! WHY offers a class for 4-10 year olds where children can move alongside their parents. Most of the time, they can do the movements better than we can. WHY's class is weekly on Sundays from 3 - 4 pm. Check website for specific details.
If you don't mind strapping a baby on your back, then Hike It Baby has a hike for you. Hikes are rated easy, so preschoolers can manage the trail.
The Claypen offers many types of pottery classes for adult and kids. Of specific interest would be the "Toddler Time" classes. These classes sell out fast. You can expect your student to create child-centered (pre-made) pieces by adding their own personality with paint and color. See the website for projects and classes in upcoming months.
This is a fun place to play for kids who are 0-10. It is actually a show room, but they WANT you to come play on their equipment! Open play is every weekday from 10 to 4 pm where you can try the slides, the bounce house, pretend to be a pirate in a ship, ride in a rocket, and more. It's a small, cozy spot that is not overwhelming or too stimulating. Fresh coffee for parents!
Even preschoolers can enjoy bowling. With bumpers and a ramp to help guide the ball, they will feel the success as they make a strike! Set the lane for no bumpers for older siblings and you are all set! Locations in Windsor Locks and Bristol. There is a cafe with kids favorites on site and an arcade if you want to try that.
Published originally on 1/31/2020