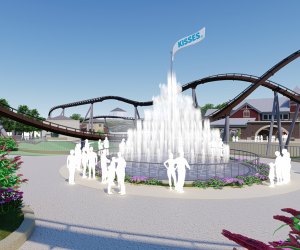 Hersheypark's Brand-New Chocolatetown Looks Mighty Sweet
Just when you thought a visit to Hersheypark couldn't get any more tempting, the Harrisburg, Pennsylvania, amusement park announced a sweet surprise for fans of its chocolate emporium. It's adding a Chocolatetown, an all-new section of the theme park that will connect Hersheypark and Hershey's Chocolate World, opening in the summer of 2020. Expect a major new roller coaster, and yes, plenty of chocolate, including new dessert spots.
The expansion will further the vision of Milton S. Hershey, a real-life Willy Wonka, who brought his sweet dream to life in 1907 when he built the 121-acre amusement park as a perk for his chocolate factory workers and their families.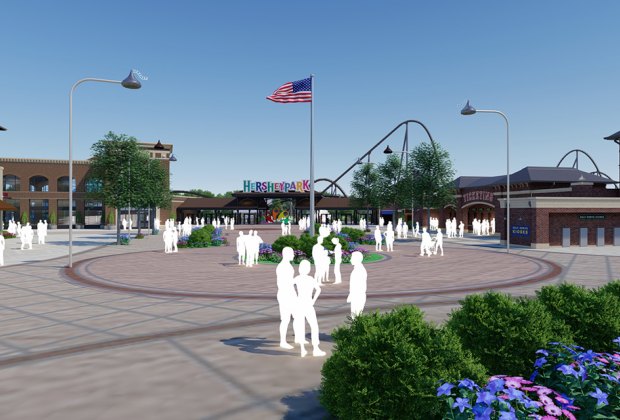 Walk through the entrance to amazing rides, foods, shopping, and chocolate!
The park, which opened to the public in the 1970s, contains rides for everyone from toddlers through adults, an 11-acre seasonal water park, Zoo America, a lush garden, and, of course, the eponymous chocolate factory. So how can Chocolatetown improve on the already-enticing hot spot? Retaining the charm of the historic venue but adding modern flourishes, the new area will feature rides, retail shopping, and, naturally, a chance to sample lots of chocolate and candy galore.
Roller coaster enthusiasts will be thrilled to hear that Chocolatetown will house the park's "tallest, fastest, [and] longest," roller coaster yet, according to park officials. The yet-to-be-named ride will be Hersheypark's 15th coaster.
RELATED: 6 Great Family Weekend Getaways in Pennsylvania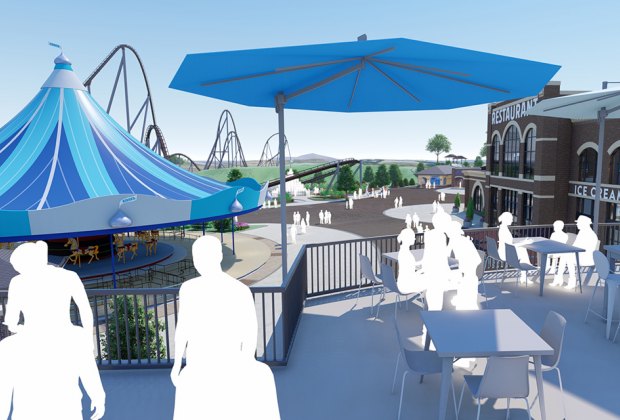 Enjoy the view of the park from the second-story patio at the full-service restaurant.
As anyone who's visited the family-friendly park can tell you, the heavenly scent of chocolate wafting through the air will make you hungry. Chocolatetown has you covered. This new section will include a full-service restaurant, complete with a second-story patio and bar where guests can enjoy nighttime fireworks displays and hear the joyful screams of those brave enough to board the new coaster. As the largest themed eatery in the Hershey area, the restaurant also wants to go big when it comes to offering innovative fare. A key ingredient on the menu will be chocolate, of course, which makes its way into appetizers, entrees, and desserts as well.
Families seeking a sweet treat can visit Confectionary Kitchen and watch as candy makers create decadent desserts from scratch. Recognizing that nothing cools you down on a hot summer day quite like a frosty snack, an ice cream parlor staffed by expert ice creamologists will serve up exclusive creations and items ideal for sharing. All three venues will be open year-round. Parents craving a little caffeine can pick up a cup of joe at Starbucks and take a grown-up time-out. Indoor and outdoor seating will be available.
RELATED: Guide to the Best U.S. Family Vacations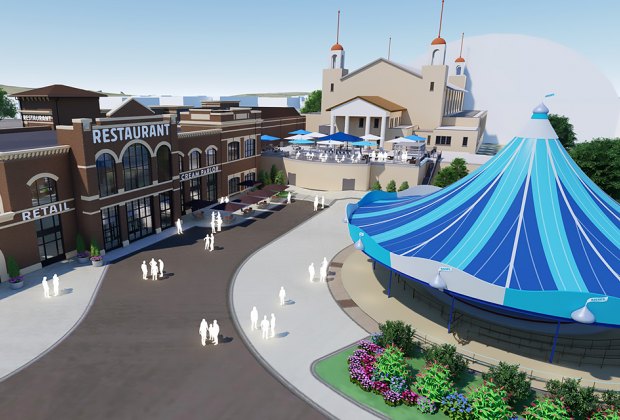 Visit the retail area where kids will be begging to take home a souvenir from their special trip!
Serving as a stunning centerpiece to the new section, the Kisses Fountain will provide the perfect photo op for families who will want to capture and savor their visit long after their vacation ends. Pose for a picture with favorite Hershey characters, or take spin on the nearby historic carousel, which will find a new home inside Chocolatetown.
For those eager to take home a souvenir, Chocolatetown will be home to the 10,000-square-foot flagship store where shoppers can check out the largest collection of Hersehypark merchandise all in one spot.
Chocolatetown will also host a dedicated gate for season pass holders as well as guests of the official resorts of Hersheypark.
If you're already thinking ahead to your 2020 summer getaway, you might want to consider adding Chocolatetown to your short list of sweet family-friendly destinations.
Photos courtesy of Hersheypark