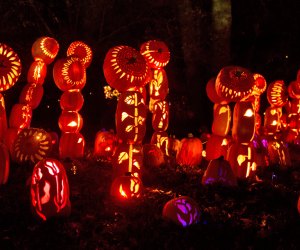 30 Things We Can't Wait To Do With Long Island Kids This Fall
Fall may be the best season to enjoy the splendor of Long Island. Farms along the Northfork are overflowing with freshly picked produce and tons of fall fun. There are apples to pick and pies to bake, pumpkins to carve, and colorful leaves are dangling overhead and crunching under your feet on a beautiful fall foliage walk. There's plenty to do to enjoy the spookiest season of the year. We've rounded up 30 of the best things to do on Long Island this fall.
Keep up with all the seasonal fun on our Event Calendar and visit our Fall Fun Guide for Long Island Kids.
Fall Fun at Area Farms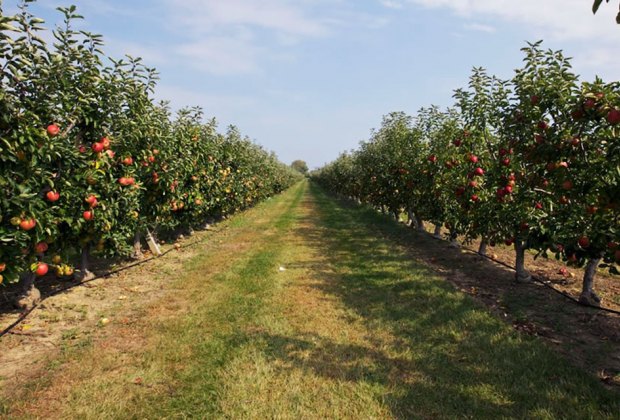 Pick-your-own apples and pumpkins at Milk Pail in Water Mill. Photo courtesy of Milk Pail
1. Kick the season off with an apple picking adventure, and don't forget to stock up on sweet apple cider donuts.
2. Climb the straw pyramid, play mini golf, hop on a hayride, and enjoy all the seasonal fun at F&W Schmitt's Family Farm Fall Festival.
3. Have some fun on the farm and while away an afternoon picking the perfect pumpkin.
4. Challenge yourself to make it through a local corn maze.
5. Enjoy garlicky local eats, garlic-inspired crafts, family-friendly music, and take home some garlic plants for your garden at the Long Island Garlic Festival at Garden of Eve in Riverhead.
6. Head back to the farm for Oktoberfest later in the season.
7. Get one last pony ride or goat cuddle in before Long Island's Petting Zoos close for the winter.
8. Climb aboard a seasonal hayride.
Fall Fun in the Great Outdoors

The Red Garden is one of the most popular gardens at LongHouse, and a favorite of founder Jack Lenor Larsen. Photo courtesy of LongHouse
9. Inspire your budding-artist with a visit to a local outdoor sculpture garden.
10. Summer isn't over yet; many Long Island shores are extending their seasons deep into September, so get one more beach day in.
11. Once the swimmers clear the sands, strap on your sneakers and explore one of these beach walks.
12. Scope out the best playgrounds on Long Island before it gets too cold for outdoor adventures.
13. Take in the splendor of changing leaves during a fall foliage hike or explore the island on one of these nature trails.
14. Explore one of these 15 Long Island State Parks that offer all-season fun.
15. Join the North Shore Audubon Society for an Owl Prowl at Planting Fields.
16. Enjoy outdoor artmaking and seasonal treats at the Fall Art Fest at One River School of Art + Design on Sunday, October 11.
Halloween Fun for Long Island Kids
17. Check out the Great Jack O'Lantern Blaze at Old Bethpage Village Restoration this October.
18. Take a walk through the woods of Tanglewood Preserve during CSTL's Spooky Fest. Choose from a haunted walk (for brave big kids) or not-so-spooky walk (for younger children).
19. Carve a locally grown pumpkin into a spooky jack-o-lantern with one of our free stencils.
20. Start planning your costume for the Sag Harbor Ragamuffin Parade, scheduled for Sunday, October 25.
More Fun Fall Activities for the Whole Family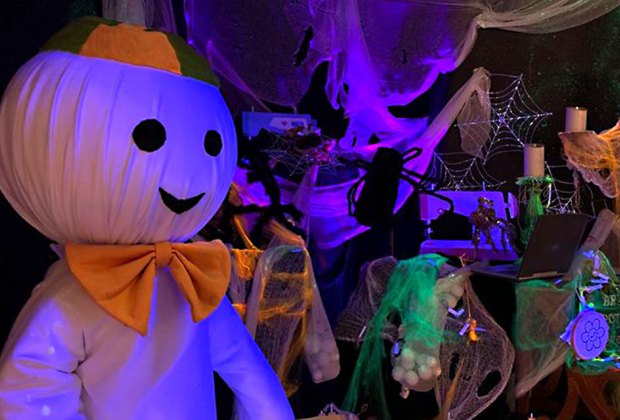 Meet Otto the Ghost at the Fall Festival at HIcks Nursery. Photo courtesy of the nursery
21. Stock up on snacks, grab some blankets and get cozy while watching a drive-in movie.
22. Re-discover the recently reopened Long Island Children's Museum.
23. Get away for a while at one of these 25 Day Trips for Long Island Families.
24. Take in the 30th Annual Scarecrow Competition at Sony Brook Village and vote for your favorite.
25. Take a family stroll down Love Lane on the First Friday of the month.
26. Support local businesses by shopping your way through Long Island's most walkable main streets.
27. Find some fun seasonal decor and hang out with Otto the Ghost at the Fall Festival at Hicks Nurseries.
28. Enjoy one last sunset with a sip of wine at a family-friendly local vineyard
29. Plan a visit to the Long Island Museum, which is reopening Friday, September 25. Admission is FREE through year's end.
30. Plot a getaway. These 14 spots are beautiful in the fall and perfect for a weekend away.