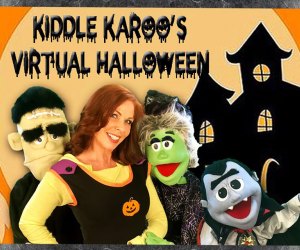 Free Things To Do Online in October: Halloween Events, World Space Week, Dia de los Muertos, and Coffee Fest
Across the country, public spaces are opening up and virtual events giving way to in-person events... to a point. We are still by and large holding back when it comes to larger social gatherings. (You know, those things that used to fill Mommy Poppins' calendars from top to bottom?) So while many local promoters are coming up with ways to rethink Halloween gatherings, and families are embracing local drive-in movies, we are still grateful to have so many creative virtual celebrations—such as...
Don't get spooked, but it's October, and we have Halloween on the brain! Though trick-or-treating may or may not be on the agenda, we do have a number of virtual alternatives: virtual Halloween concerts, a virtual Halloween party, a virtual Halloween hunt, a virtual costume cabaret, and even virtual candy! We're expanding our reach, exploring our sun and venturing into space. We're Over the Moon!
Favorite local festivals go online, giving everyone a chance to attend: the Los Angeles Times Festival of Books, PaleyFest Fall TV Previews, Carnegie Hall's Opening Night, and even a Global Coffee Festival (I'll have a cup of that!). All in all, a pretty good haul in our virtual treat bag.
Keep reading for virtually all the virtual treats this month has to offer...