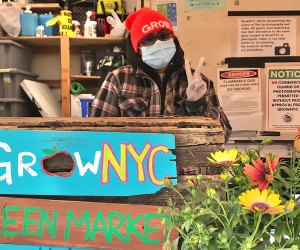 Ways to Support Local Businesses in NYC During the Pandemic
With lengthy shipping times online and long lines to get into big-box stores, shopping during the pandemic isn't easy. These inconveniences are an excellent reminder to shop small and patronize the many local businesses struggling to stay afloat right now in NYC. We've already filled you in on our favorite toy and book stores offering local delivery and curbside pickup, and tempted you with these restaurant picks delivering Mother's Day brunch (and more!), but now we're highlighting some other local businesses that may not already be on your radar. These local spots are offering their wares, and in some cases, your purchase also helps first responders, local charities, and neighbors, too.
When you're considering how to support a local business, keep in mind that ordering delivery or curbside pickup directly from a small business allows all of the profit to stay with the local business, rather than a third-party delivery company siphoning off some of the funds. If you don't need an item or a meal right away, purchasing a gift card to spend later is another great way to show your support.
And while you're showing your support for the businesses you love, we hope you'll count Mommy Poppins and our small business partners among them. You can support Mommy Poppins by sharing articles you find useful with friends or on your social media channels, checking out our directory of virtual classes, camps, and birthday parties and telling businesses you found them through Mommy Poppins. Also, as part of our effort to keep our local parent writers and this website afloat and support some of our favorite family businesses, we've created Poppins@Home, a platform for small businesses to share free and low-cost online classes and birthday parties with kids all over the country. Please consider trying a few of these fun, affordable, and creative classes—and spreading the word among your friends—as yet another way to support, uplift, and get through these challenging times together!

Pick up toys curbside at Little Things in Brooklyn. Photo by the author
Local NYC Toy Shops Offering Delivery or Pickup
We rounded up 17 toy stores and bookstores offering curbside pickup and delivery last week. This week, we want to clue you in on a cool partnership some of our favorite local spots have formed. Three longtime local toy shops that have served the New York area for more than four decades—Little Things, Westside Kids, and Boomerang Toys—have teamed up to create the Shelter and Play program, which helps children in need during the pandemic. So, whether you're placing an order for your kids, or just feeling generous, consider donating to Shelter and Play. Funds generated not only support these local businesses but go to purchase new toys for children in the Homeless Service United housing system.
RELATED: Best Virtual Events to Enjoy Online This Week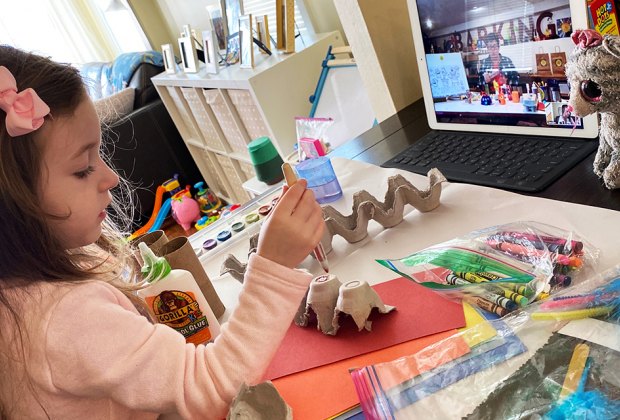 The Barking Cat Studio offers an array of remote crafting classes. Photo courtesy of the studio
Local Businesses Offering Arts and Craft Classes and Kits in NYC
All the extra time at home means even more time for families to get crafty. Many studios throughout the city are hosting virtual craft classes for all ages, while others are offering to-go kits to fuel creativity.
The Barking Cat Studio in Windsor Terrace, Brooklyn, offers remote crafting opportunities, including the "Little Hands Creative Play Class" for toddlers through age 5 and the "After-School Afternoon Arts for Big Kids" class. Don't have all the supplies at home? Sign up for your class and add on an Art Grab 'n Go kit (an additional $10), which is packed with everything you need to complete the class. For $5, the studio provides contactless delivery to your door. Classes start at $15.
Upper West Side spot Little Shop of Crafts is offering to-go crafting kits to tackle at-home projects, while The Craft Studio (multiple locations) can ship a kit with all the materials for some of its signature products straight to your door. Tribeca's Color Me Mine is open for craft-kit pickups on Thursday mornings or can ship a package straight to you. Once you've painted your project, drop it off for firing. The Painted Pot's two Brooklyn locations offer a similar service.
The Children's Museum of the Arts in Hudson Square is hosting lots of FREE interactive sessions for children of all ages to create artwork, participate in singalongs, explore creative movement, and more. If you can't make a live session, you can check out its pre-recorded video art lessons here. If you're able to support this NYC gem, register for one of the museum's private lessons, which offer one-on-one mentorship or small group lessons for young artists who want to make art with friends.
RELATED: Pregnancy and Childbirth in Coronavirus: New Mom, Doctor, Doula Answer FAQs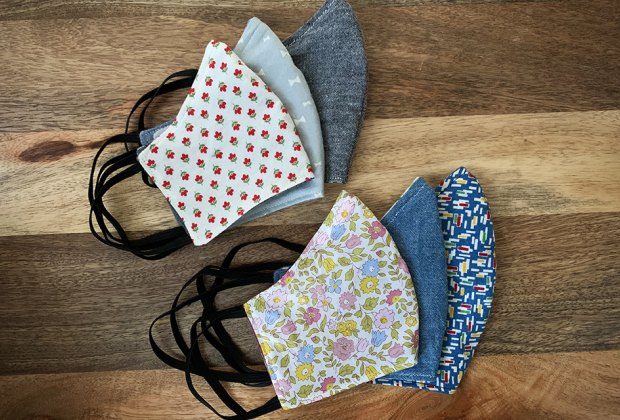 Shop locally for your fashionable face mask at Lululuv's Handmade. Photo courtesy of Lululuv's Handmade
Shop Face Masks Made by Local Businesses in NYC
Small business Lululuvs Handmade, based in Park Slope, sews handmade masks in sizes ranging from toddler to adult. Masks are reversible, and best of all, the proceeds are donated to hospitals throughout NYC. Masks are restocked every Friday and sell out quickly.
NYC-based company Kes is offering sustainably-made face masks for $12 each. For every mask purchased, another is donated to a health care worker in need. Choose between the basic black or white cotton mask, or go bold with silk charmeuse masks in a variety of prints for $21.
Local NYC Organizations Offering Remote Educational Activities, Classes, and Academic Support
Nonprofit youth theater program TADA! creates original musicals for children, teens, and family audiences, plus provides musical theater classes and camps for the NYC kids. The theater has loads of affordable fun, online classes for ages 4-12. Learn musical theater song and dance basics from your living room.
The Museum of Mathematics offers loads of online programming for all ages. It is offering pro-rated, mid-session enrollment in its popular MathPlay, which helps broaden math skills, improves problem-solving, fine-tunes motor coordination, and enhances communication and social skills. For the younger set, MathPlay Mini has the same benefits, but is geared toward a younger audience, and offers a no-commitment, online drop-in option.
Chess NYC has been a longtime provider of after-school enrichment and camp opportunities for city kids. It's recently acquired FasTracKids/JEI Learning Center and is providing professional online homework assistance in one-on-one and group formats. A variety of options are available to support students' remote learning needs, including one-on-one sessions for as little as $18 or unlimited group tutoring sessions for $72 per week.
Support a Local Institution and Your Streaming Habit
Nothing can replace the feeling of seeing a film in an actual theater. But until people can gather together again at the cinema, one of our favorite local children's film festivals is bringing you the next best thing. The New York International Children's Film Festival's Kid Flicks Short Film Programs, featuring the best short films from the 2019 festival, is available to rent from May 8-17. Your rental fee supports a local theater or cultural institution of your choosing, and grants you access to the hour-long program for unlimited screening over 48 hours.
RELATED: Crafts for Kid: 100 Awesome Art Projects for Creative At-Home Fun

Document the quarantine with a professional photo session from a local photographer. Photo courtesy of Marc Goldberg Photography
Hire a Local Photographer for a Social Distance Shoot in NYC
Many photographers are responding to the city's stay-at-home order with socially distanced shoots.
Family-favorite Marc Goldberg Photography offers 15-minute, at-home, socially distant, and contactless front door sessions for $100. What makes this offer special is 100% of your fee is donated directly to the New York Common Pantry, which provides groceries and hot meals for those in need, plus haircuts, hot showers, and a variety of other social services. After the shoot, you'll receive full-sized family and individual images emailed to you in a private, online, fully downloadable gallery.
Adina Lerner is photographing families outside their Park Slope homes. Five-minute sessions, from a 10-foot distance, are offered in exchange for a donation to a charity of your choosing. Once you send proof of your gift, you'll receive one digital photo of your family.
City Island-based photographer Sue Kawczynski is operating her Front Porch Project-City Island business similarly. In exchange for a donation to City Island Strong, Kawczynski photographs local families.
RELATED: Home Haircut Tips by Experts: How to Cut Kids' Hair in a Pandemic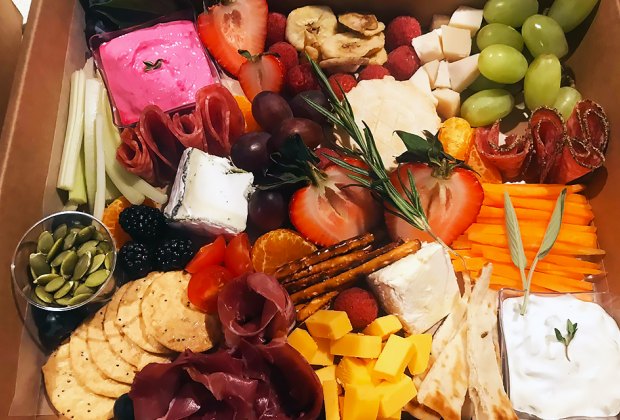 Dive into some goodies from local small business, The Gastro Box. Photo courtesy of The Gastro Box
Local NYC Restaurants Offering Delivery
DUMBO Drop and the Dock Street School are partnering to distribute meals to neighbors in need. The next time you order in from your one of your favorite DUMBO spots, like Westville, Front Street Pizza, Ignazio's, or Juliana's Pizza, add on a meal for one of your neighbors and support local families and businesses at the same time. Meals include two entries, a veggie side, bread, and drinks. If you'd rather help a child in another way, buy a learning bundle for a child at the Dock Street School or P.S. 307 Elementary school so they can fully participate in distance learning without falling behind.
The Gastro Box typically offers event catering, but during these unpredictable times, it's providing doing door-to-door deliveries of Vietnamese goodies. It's rolling out weekend "Graze & Chill" boxes, which are available for delivery Thursday-Sunday, and bring a custom-made box full of charcuterie to your doorstep. Orders must be submitted 48 hours in advance. A rolling menu of Vietnamese favorites is available at other times. Delivery is FREE within a mile of its LIC location, and there's a $5 delivery fee elsewhere.
If you're looking for a sweet weekend treat—for you and the kids—consider an order at Odd Fellows, which is offering its goods by the pint...both ice cream and beer. You can also order wine by the bottle. Orders are available for pick up on Fridays or Saturdays, or delivery on Saturdays. Schedule your weekend pick-me-up now.
Another way to reach out to local restaurants is via Go Fund Me, which lists several NYC restaurants soliciting help to keep businesses afloat and workers on payroll via on its small business platform.
RELATED: Grocery Delivery Services in NYC to Get You Through the Pandemic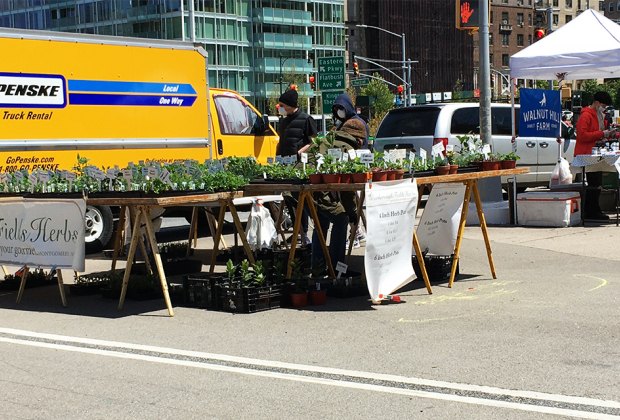 Grand Army Plaza's greenmarket offers fresh food and supports local family farms. Photo by Beatrice Crombie
Support Area Farms by Shopping NYC Greenmarkets
Support local farmers by stocking up on fresh produce and other goodies. Deemed essential businesses, most of NYC's local farmers markets are still open, though social-distancing rules are enforced. The Saturday market at Grand Army Plaza in Brooklyn and the Union Square Greenmarket are both operational. We advise arriving early to beat the lines. Find a full list of Grow NYC markets and hours online.
Nonprofit public marketplace The Fulton Stall Market continues its mission to connect farmers and producers with the community. The stalls at this indoor farmers market sell locally grown farm and food products, fresh baked goods, and locally sourced takeout meals prepared on-site. There's no self-service allowed, though, and shoppers are encouraged to pay with credit or debit cards. Limited hours run Monday-Saturday from 11am-4pm.