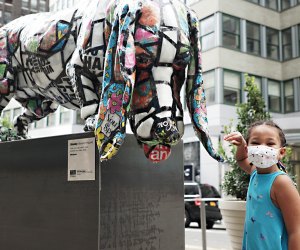 25 Fun Things To Do with NYC Kids on Columbus Day
New York City kids have only been in school for two weeks (and part-time at that!), but Columbus Day and Indigenous People's Day looms on the calendar. The holiday falls on Monday, October 12, 2020. Don't panic: There are plenty of New York City kid spots and activities ready to entertain you and your brood during the upcoming long weekend.
Fall offers the perfect chance to hit one of New York City's many destination playgrounds, of course. Still, we've also scoured our event calendar and museum listings and combed through our day trip guides to put together a list of 25 things to do with the family on Columbus Day. So, step away from the screen and step outside to enjoy all the city has to offer.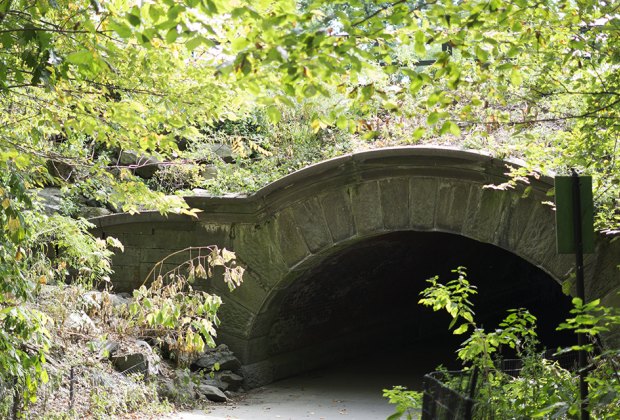 Central Park's paths offer a beautiful escape from the concrete jungle, especially as the leaves start to turn.
1. Get lost in the North Woods, explore The Ramble, and marvel at the soaring arches in Central Park's family-friendly northern edge.
2. Catch a performance of Jack and the Beanstalk at Puppetworks. Capacity is limited to 25 percent, and masks are required.
3. Take a hike on one of these 10 nature trails within city limits.
RELATED: Best Things To Do With New York City Kids This Weekend and Beyond

Krispy Kreme's new flagship in Times Square is open for business.
4. Grab a sugary sweet treat at Krispy Kreme's new Times Square mega shop.
5. Gawk at larger-than-life installations at these outdoor art destinations near NYC.
6. Pick the perfect pumpkin with a day trip to one of these nearby farms or local NYC pumpkin patches.
RELATED: 30 Things We Can't Wait To Do This Fall in NYC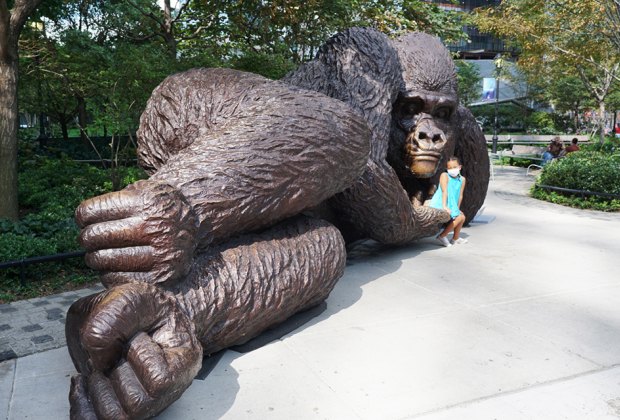 King Nyani welcomes visitors to take a seat and snap a selfie.
7. Explore The Vessel and the rest of the Hudson Yards. Make sure to snap a selfie with King Nyani or seek out another piece of public art nearby.
8. Come face-to-face with a real-life predator at the New York Aquarium's Ocean Wonders: Sharks! exhibit, and visit its newly-opened Spineless exhibit.
RELATED: NYC Museums Reopen With New Exhibits and Admission Deals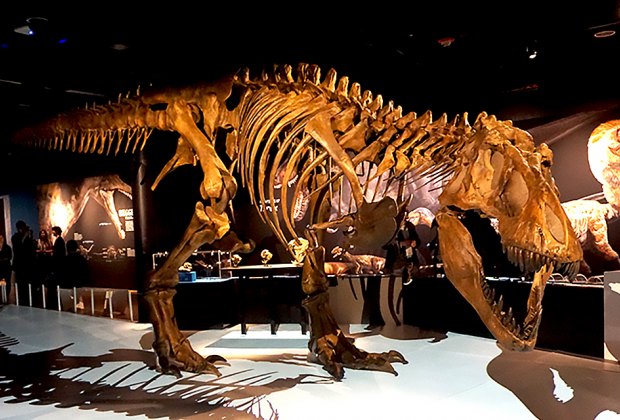 Who doesn't want to see how big a T. Rex really was?
9. Or meet an old-school terror at the American Museum of Natural History, which is newly reopened and paying homage to T. Rex in a striking exhibition.
10. Add a little color to your AMNH visit by stopping at The Nature of Color while you're there.
11. Grab your bike or rent one and hit one of these family-friendly local paths.
RELATED: Line-Free NYC: 20 Things To Do and Enjoy in NYC Right Now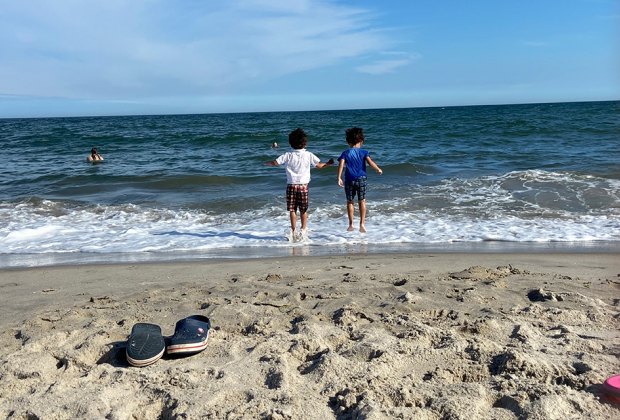 The beach may be closed to swimmers, but you can still dip your toes in the sand and surf. Photo by Sara M
12. Hit the crowd-free shorelines of Long Island for a family-friendly beach walk.
13. Take in the terrifying views from the Edge, aka the highest outdoor observation deck in the Western Hemisphere, which rises 100 floors above Hudson Yards.
14. Visit the New York Botanical Garden for some fall colors and a stroll along the Pumpkin Path.
RELATED: The Best Zoos and Aquariums in NYC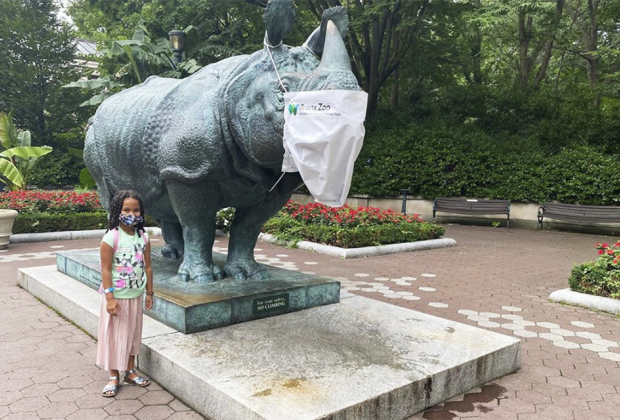 Even the hippos are wearing masks to keep zoo-goers safe.
15. Read our post on seeing the Bronx Zoo like a local, then head there to make some furry friends and enjoy its Boo at the Zoo.
16. The Central Park Zoo, Prospect Park Zoo, Queens Zoo, and the Staten Island Zoo are also open on Columbus Day.
17. Or try one of these nearby petting zoos for fall fun on a real farm.
18. Venture out of the city for one of these 30 fall day trips.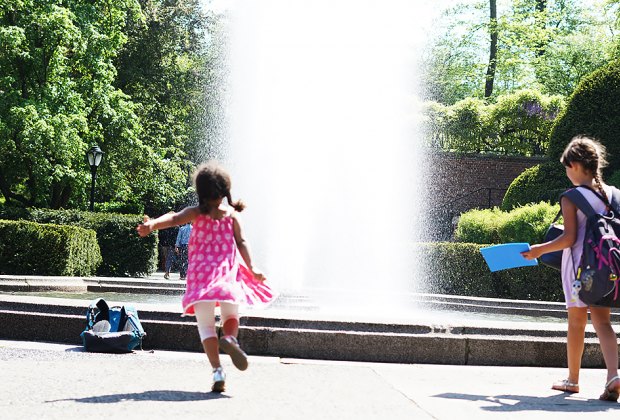 The Conservatory Garden is stunning in any season.
19. Hit the slide at one of our favorite Central Park playgrounds. Stick around afterward to explore a new-to-you corner of the park.
20. Get creative in the kitchen with one of these apple-filled recipes after a trip to a local orchard.
21. Visit the over-the-top custom floral installations at The Fall Escape.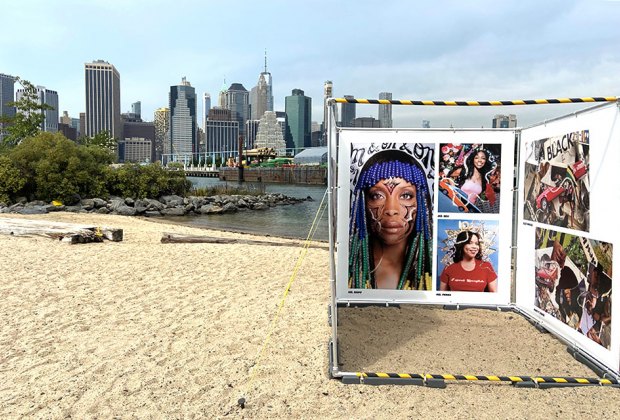 Stunning photographs and spectacular backdrops punctuate the city-wide Photoville. Photo by Sara M.
22. Explore the city-wide Photoville NYC installation, which showcases original photography at more than 25 spots across the boroughs.
23. Tackle a corn maze; there's even one right here in Queens.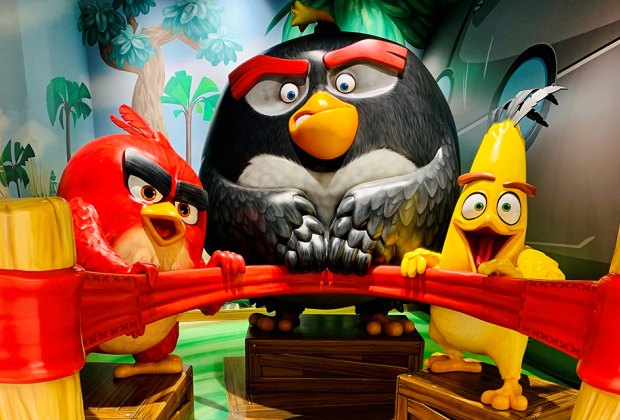 The Angry Birds have taken over a wing at American Dream! Photo courtesy of the venue
24. Slingshot yourself across the river to check out the brand new Angry Birds Not So Mini Golf at the newly reopened American Dream megamall.
25. Take advantage of the tourist-free times, and enjoy one of these 20 popular attractions without standing in line
This post, first published in October 2013, is updated annually.
Unless noted, photos by the author