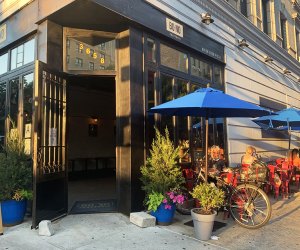 20 Outdoor Restaurants Ready to Welcome Families Across NYC
One of the most anticipated reopenings during Phase 2 of NY Forward is the return of sit-down restaurant service, and New York City's bustling dining scene is ready to welcome visitors back. The catch, though, is that all in-person dining must occur alfresco. So, if you're itching for a break from the kitchen, we've rounded up 20 outdoor restaurants throughout the five boroughs who are ready to serve you—and your kids—your next meal.
We've combed our Kid-Friendly Restaurant Guide to locate our favorite outdoor restaurants that have reopened, and added a few fresh picks to this list. But, keep in mind, even spots that don't usually serve meals outdoors have been allowed to add outdoor seating as NYC reopens, so be sure to check with your favorite local haunt, whether they've traditionally served meals on the sidewalk or not. They just might be ready to welcome you back, too.
A few outdoor dining etiquette tips to keep in mind before venturing out: Restaurant seating must be arranged in a socially distant manner, with at least six feet between tables unless physical barriers are used. Employees must wear masks at all times, while patrons ages 2 and older must wear masks anytime they are not seated at their tables. You may be given single-use menus or asked to pay with a credit card to avoid added contact, too. In some cases, reservation policies have changed, so please click through to each restaurant's website for details on its service and safety protocols.
RELATED: 5 Summer Cocktail Recipes With Matching Mocktails for Kids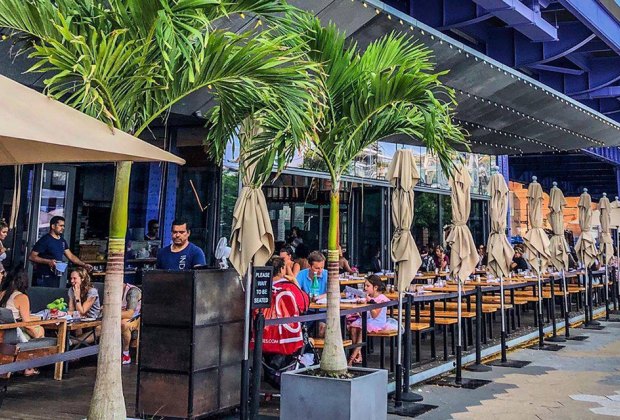 The patio at Industry Kitchen is now open for outdoor dining daily.
Outdoor Restaurants in Manhattan
Perfectly crisp-crusted pizzas are a crowd-pleasing favorite at this off-the-beaten-path gem on the northern edge of Harlem. An extensive menu of Italian classics pleases more sophisticated palates, too, and a lovely wine list is a draw for parents. Curbside seating offers great people-watching in a busting, multicultural neighborhood.
Locals flock to this always jam-packed neighborhood pub, which offers an expansive outdoor seating area on the corner of 116th Street. A kids menu includes plenty of options for picky eaters, like sliders, penne pasta with a plain marinara sauce, and chicken fingers and fries. Adults can dine on everything from truffle burgers to chicken and waffles. Picnic-style seating, big-screen TVs, and a lively atmosphere make it a comfortable spot to enjoy with kids.
Part of the East River Waterfront Esplanade near the South Street Seaport, Industry Kitchen lives up to its name with rustic industrial chic decor and a menu centered on the wood-fired oven churning out pizzas, roasted veggies, and meats. The outdoor picnic tables offer views of the tall ships at the seaport, the Brooklyn Bridge, and East River. If the kids get restless, they can play on the esplanade while remaining in view.
Head to the rooftop at this popular Columbia-area hangout, where you'll enjoy a mashup of Tex-Mex and Cali-Mex flavors. Its wings are well-known, and there's always some kind of drink or appetizer special to take advantage of. The outdoor seating offers just 20 seats, and diners are limited to 1.5-hour time slots to encourage turnover.
RELATED: Essex Market With Kids: Specialty Shops, International Eats, and Treats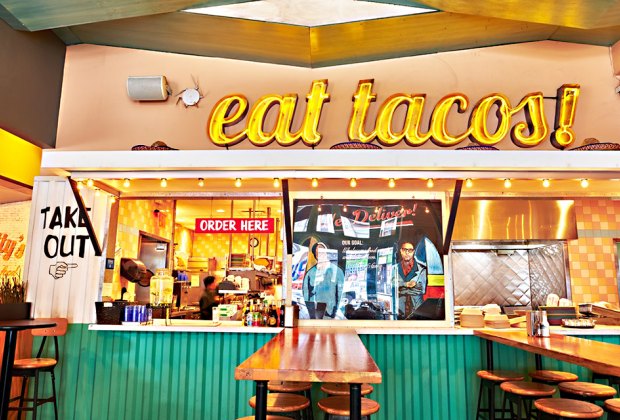 California-style beach fare served is served up curbside at Playa Betty's on the Upper West Side.
The bright flavors of California's coastal scene, infused with plenty of Mexican influences, take center stage at this bright, lively spot. Street tacos are the main draw here and come in a variety of styles. A kids menu includes quesadillas, a chicken finger taco, and a veggie-forward brown rice bowl. There is ample sidewalk seating for socially distant tacos.
Perfectly picturesque is how we'd describe the setting of the spacious parkside patio of this Battery Park City spot. Enjoy bistro fare under the dappled sunlight from the surrounding trees and gaze out on the Hudson River. The kids menu is pricey, but the location priceless.
7. Bubby's – Tribeca & The High Line
A longtime favorite, this onetime pie company is beloved for its desserts and its tasty comfort food—think meatloaf, fried chicken, biscuits, fried okra, and buttermilk mashed potatoes. The children's menu includes burgers, spaghetti, and hot dogs, and comes with a variety of sides. Both of Bubby's Manhattan locations are reopening with curbside seating.
RELATED: Brooklyn Restaurants with Kid-Friendly Backyards and Patios

Fornino's Brooklyn Bridge Park patio offers a picturesque view along with ample outdoor seating. Photo by Sara M.
Outdoor Restaurants in Brooklyn
8. Fornino — Brooklyn Bridge Park & Greenpoint
A go-to for pizza, one location is nestled right along the water of Brooklyn Bridge Park near the epic string of hidden playgrounds right off of Atlantic Avenue. Come early so the kids can expend their abundant energy in the sandbox or on the swings, then head to Fornino's rooftop to enjoy the sunset with views of Manhattan and the Statue of Liberty over brick-oven pizza. Fornino's Greenpoint location is also serving alfresco pies.
Despite its location deep in Ditmas Park, the Farm on Adderley has been drawing brunch, lunch, and dinner crowds from all over the borough (and Manhattan) with its focus on fresh, seasonal ingredients and a farm-to-table ethos. Its rustic garden is the perfect backdrop for a meal. Kids can choose from grilled cheese, buttered noodles, or a burger or order items from the regular menu, such as chocolate bread or French toast. Place your order online in advance for quick table service, or order at the bar upon arrival.
RELATED: From Disney's Dole Whip to Ikea's Meatballs: 6 Secret Recipes Revealed

Relax with a delicious meal in Popina's magical backyard.
10. Popina — Columbia Waterfront
This unique Italian spot features a menu full of delicious plates of pasta and, for the grown-ups, a bottle its house negroni. The backyard is quite magical, with tables nestled under a massive tree and a giant bocce ball court that will keep the whole family entertained. Reopening hours are limited: It's bar service and lite bites on Wednesdays and Thursdays, with a full menu, come Friday through the weekend. Seating is first-come, first-served.
This awesome little restaurant along the edge of the Gowanus canal boasts a gorgeous backyard area with picnic tables and a small menu that appeals to kids, too. Grab a cocktail and a spot out back to enjoy some fried chicken. For something lighter, we recommend the hummus or Brussels sprouts. There is always shade to be found—umbrellas make this a reliable destination even during peak sunny hours.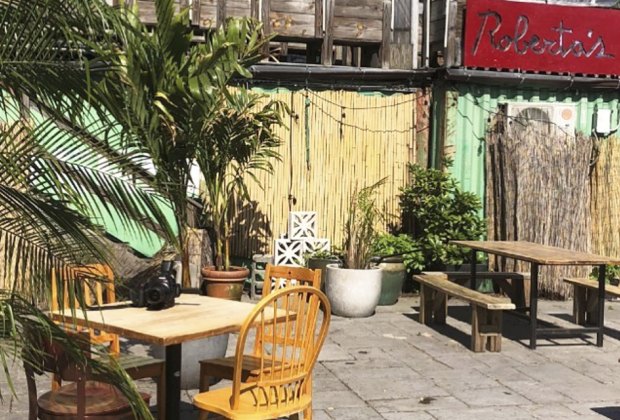 Roberta's Pizza is taking reservations, so book your spot for a meal in its amazing garden.
What's better than eating pizza outside? This famed Bushwick pizzeria has a large outdoor garden, and the atmosphere is casual, relaxed, and hipster Brooklyn. Kids love to see pizzas cooking in the wood-burning ovens. Roberta's is currently accepting reservations for its outdoor dining, which can be booked online via its website, and be sure to bookmark the link because you'll be asked to view your menu online when you arrive.
This 13,000-square-foot indoor/outdoor restaurant, bar, and beer garden was formerly a gas station and body shop. During daytime hours, kids and parents are welcome to enjoy the eclectic pub menu (burgers, panko-encrusted chicken fingers, and tater tots), and the spacious backyard. With 60 beers on tap, casual drinkers and connoisseurs alike should be satisfied. Beware that it is ages 21 and up after 7pm daily.
RELATED: 10 Queens Restaurants with Backyards for Kid Friendly Outdoor Dining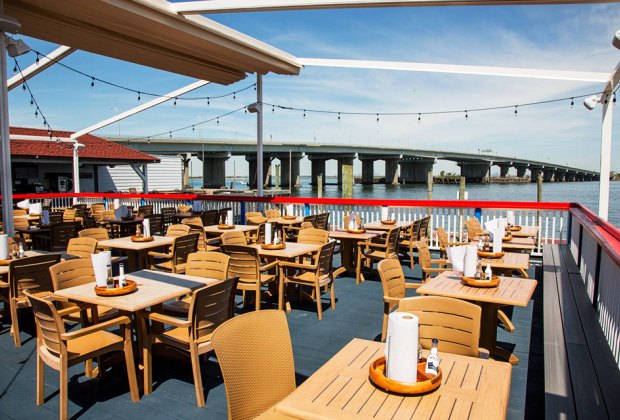 With an outdoor deck and tiki bar, Bungalow Bar is a perfect place for fun while social distancing.
Outdoor Restaurants in Queens
Bungalow Bar, right on Jamaica Bay just over the bridge from Broad Channel, offers classic beach fare with phenomenal views. With its big deck overlooking the water, various seafood offerings, fun cocktails, and live music, Bungalow is the quintessential beach experience. It's currently offering contact-free ordering and payment and has installed multiple hand-sanitizing stations. Patrons must abide by a time limit for their meal to allow as many diners as possible to enjoy the atmosphere.
While there are plenty of restaurants in the Hunters Point section of Long Island City, Ravenswood, which is farther north, is pretty barren. But with two major LIC attractions here, it's good to know about this veteran diner, which is located about four blocks away from both. Bel Aire is open 24/7 and boasts a novel of a menu. It does diner standards like burgers, all-day breakfast, and starters the best. It offers outdoor dining and managed to creatively cash in on the pandemic by turning its parking lot into a drive-in movie destination.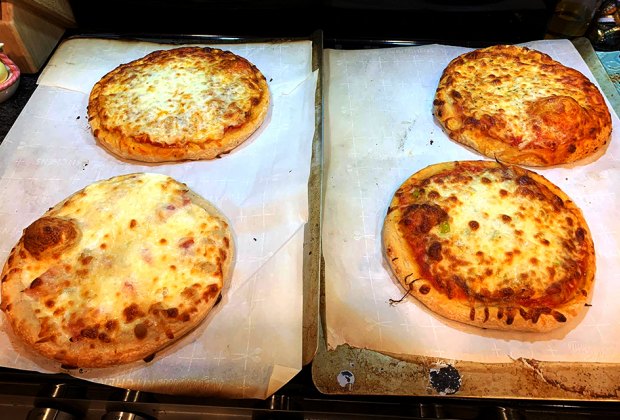 Jimmy Max's pizza oven is up, running, and ready to be delivered to your outdoor seat.
Outdoor Restaurants in Staten Island
We've been longtime fans of this Staten Island spot, which regularly offers children's pizza-making workshops during dinner hour. While kids can't currently craft their own pie, they can enjoy one curbside. Other options include a wide-ranging array of Italian classics.
Another uber-creative eatery, Juicy Lucy is offering "Flicks and a Feast," with a car-hop style dining experience in front of its newly installed big screen, which is set to stream movies six days a week. While it's not quite a sidewalk cafe experience, your mouthwatering barbecue comes with a side of kid-pleasing entertainment.
RELATED: Family Restaurants in NYC with Fun Things for Kids to Do and See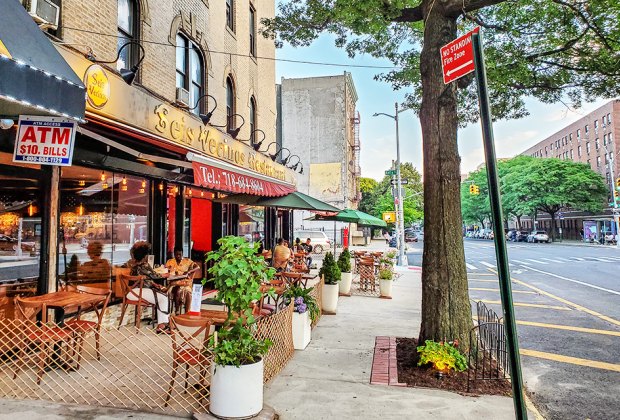 Seis Vecinos' Latin-American flavors can be enjoyed outdoors in the heart of the South Bronx.
Outdoor Restaurants in the Bronx
Authentic Mexican and Central American eats await at this restaurant, whose name translates to "six brothers," after the countries it draws its cultural inspiration from. Its corner spot means there's plenty of real estate to spread out for socially distanced eating. Bring your phone to scan the onsite QR code for a contactless menu.

Outside seating at the Bronx Ale House has officially opened for daily service.
Pub fare is the name of the game at this local hotspot. Kids will no doubt find some palate-pleasing options, like fried mac-and-cheese. Sixteen beers are on tap, and it serves weekend brunch, too.
It's hard to pick just one of the restaurants along the famed Avenue, dubbed the Bronx's Little Italy, when so many have opened for outdoor dining. Indeed, the local business improvement district has requested the street be shut down to add even more outdoor dining options to the famed, history-and-flavor-filled strip.
Unless noted, photos courtesy of the restaurants