SPONSORED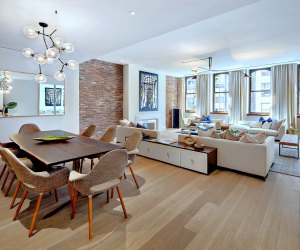 30 Reasons Tribeca is the Most Family-Friendly Neighborhood in NYC
For over a decade, parents flocked to Tribeca for top-notch schools and huge loft apartments, even if it meant giving up some of the amenities found in more established neighborhoods. There's certainly no lack of family friendly features now! With action-packed parks, delicious restaurants, and tons of kid-approved spots and attractions, Tribeca offers the best of city living while somehow maintaining an almost small town vibe that residents can't get enough of.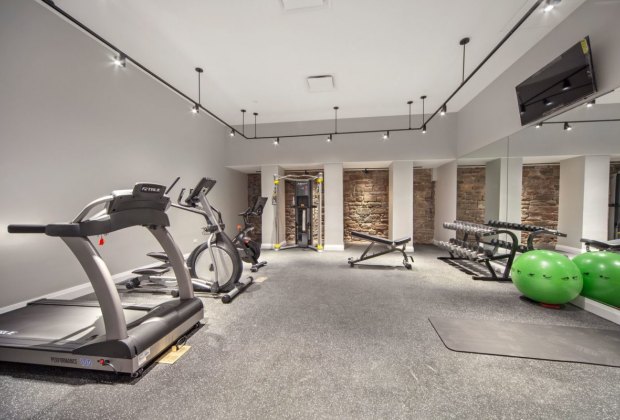 Likewise, instead of the rough loft spaces of the past, families can now opt for luxury buildings, like our sponsor 6 Cortlandt Alley, with enviable perks. This boutique condominium features a cyber doorman, a parent-approved private gym with Peloton bikes, a resident's lounge for the whole fam, spacious storage units available for purchase, and even a cold storage room to keep up with your sanity-saving grocery delivery addiction.
With all of these offerings, families moving to Tribeca nowadays can have their cake and eat it too. Read on for some of the things that make this happening hood an out-of-this-world place to raise your kids, and learn about a rare auction offering high-end Tribeca condos at seriously marked-down prices.
Best Things to Do in Tribeca with Kids
One of the things that makes Tribeca so unique is the number of opportunities for outdoor play. Families gather at Washington Market Park after school and for many special programs, like the Halloween parade or the summer concert series. But they can also cross West Street to reach Hudson River Park and Battery Park City playgrounds, like Nelson A. Rockefeller Playground.
Sporty Tribeca kids can join one of several leagues that play at the Battery Park City Fields for an almost suburban experience. Swimming and other athletic opportunities are offered at Asphalt Green and the Downtown Community Center, which also hosts afterschool programs, teen nights, and toddler programs.
Tribeca has great indoor fun too, like Playgarden, Gymboree, and NY Kids Club, where your littles can participate in a bevy of different classes. Kids can get creative at neighborhood standby Church Street School of Music and Art, Muse Paintbar, or The Craft Studio. Don't forget the amazing STEM offerings at Pixel Academy or Brooklyn Robot Foundry, which has a great new space on Church Street.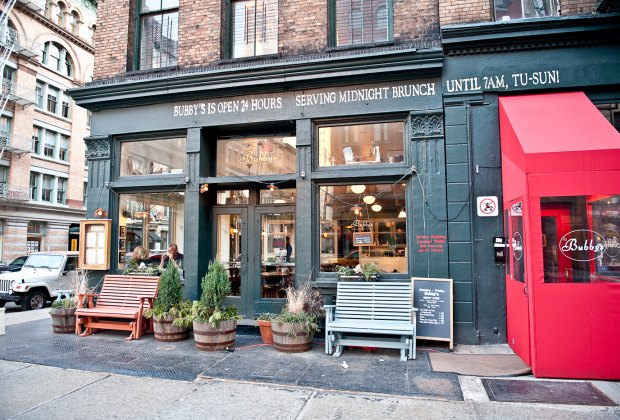 Bubby's Restaurant. Photo by Flickr4Jazz/CC BY 2.0
Best Places to Eat in Tribeca
The laid back vibe of Tribeca extends to its restaurants too. Standbys like Bubby's offer amazing comfort food, and brunch favorite Sarabeth's has live jazz certain nights of the week. Serafina just opened up in a brand new space with great pizza, and cute cafes like Laughing Man Coffee (Hugh Jackman's place), Grandaisy Bakery, Kaffe 1668, and Duane Park Patisserie take coffee and pastries to a whole other level. Meanwhile, old-school diners like Gee Whiz and the old school Square Diner drive home the small town feel of Tribeca.
Living Your Best Life in Tribeca with Kids
And don't forget the family necessities. Tribeca is home to one of the best Whole Foods in the city, with ample aisle space for shopping carts and double strollers. The neighborhood also has many children's boutiques and toy stores, like Ever After and Babesta. Mix those quaint boutiques with an actual Target and the brand new shopping centers at the nearby Brookfield Place and Westfield's shops, including Eataly--what more could you ask for?
If you're ready to make the move to Tribeca, take note: On November 10, three full-floor 4-bedroom lofts at 6 Cortlandt Alley, originally priced up to $7,300,000, will be offered for sale at a rare auction. One home—a 3,646-square-foot, 4-bedroom, 4.5-bath unit—will go to the highest bidder at or above a minimum price of $4,750,000 (that's a 35% discount), while the other two full-floor 4-bedroom homes will be auctioned with low suggested opening bids of $4,850,000 and $5,000,000 (also discounts of over 30%).
Download a brochure, sign-up for an open house, or pre-register for the auction here.
Photos courtesy of 6 Cortlandt Alley, unless otherwise noted
6 Cortlandt Alley
6 Cortlandt Alley
New York, NY 10013
Related Articles