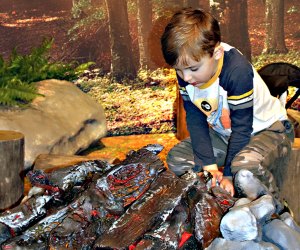 Survival: The Exhibition Brings Real-World Lessons to City Kids
If you've lived in the urban jungle long enough, it's easy to wonder whether you'd know what to do if you got lost in a forest. Could you find your way to safety if you got swept away by a river's current? What would you pack if you only had a few minutes to evacuate when a disaster strikes? Answers to these questions and more can be learned with a visit to Survival: The Exhibition, a new exhibit at the New York Hall of Science.
Read on for all the details and how to score tickets to the timed-entry exhibit, which not only teaches life lessons but also builds STEM skills and even includes a ropes course and zip line.
Subscribe to our newsletters to get more stories like this delivered to your inbox.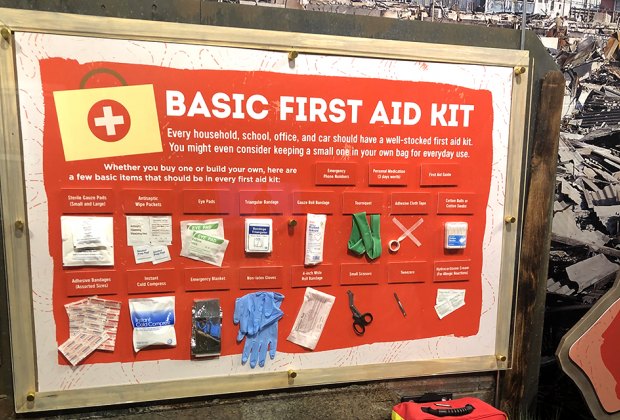 Survival: The Exhibition is stocked with plenty of real-world tips to help you prepare for an emergency before it happens.
Survival: The Exhibition has taken over the top floor of NYSCI, completely transforming the space into a disaster zone and offering practical, real-world, and science-based skills for surviving situations families may face in real life. Split into nine different zones, each section is constructed with immersive scenic and theatrical elements. In one area, you'll encounter ambulance lights, fallen trees, and scattered clothing as you're transported to a natural disaster area. A large board between two tree posts lists tips for first aid.
RELATED: Best Children's Museums to Visit in New York City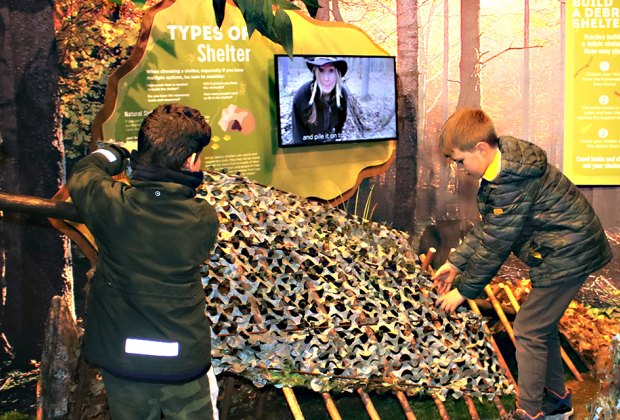 Signage and videos walk visitors through real-life lessons, and plenty of props let you practice new skills you won't often utilize in NYC.
Upon entering another zone, visitors are greeted with the smells of the forest before encountering a large bear. Trees, leaves, sticks, and rocks are strewn about, and kids are encouraged to interact with all the props and attempt to build a debris shelter. Like the other zones across the exhibit, the forest zone provides step-by-step instructions for survival and has an accompanying video that provides additional information.
Each zone was designed with STEM skills in mind, giving kids hands-on challenges, which teach critical principles behind survival tactics. The main idea, according to the exhibition's creators, is most accidents occur within a mile of home. So, while kids can have fun exploring various simulated climates—from a rainforest to a snow-covered mountain—the main message is to stay cool, calm, and collected during an emergency.
RELATED: Brooklyn Playgrounds Cool Enough for Your Big Kids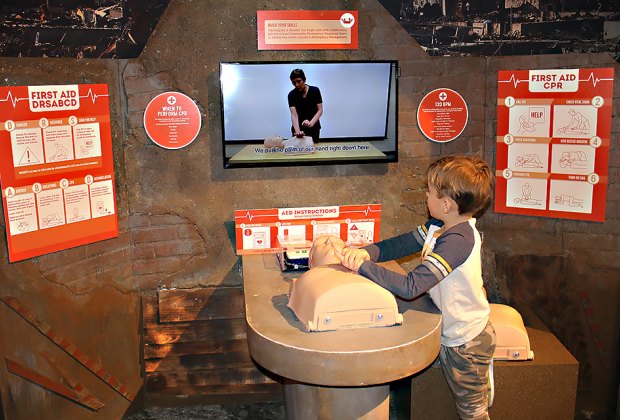 Brush up on your knowledge of CPR by practicing chest compressions and watching a how-to video.
I visited with my kids, ages 5 and 8, and we enjoyed collaborating and problem-solving together to find food, water, and shelter. We learned which plants are edible or toxic and went through a checklist of outdoor gear essentials for our next camping trip. These were valuable lessons for two city kids, who've never had to think about surviving in the wild before. Having never faced a natural disaster, I learned a lot, too. I also got a refresher course in CPR, while my kids practiced chest compressions to the tune of "Stayin' Alive."
RELATED: Top Children's Science Museums Across the US for Families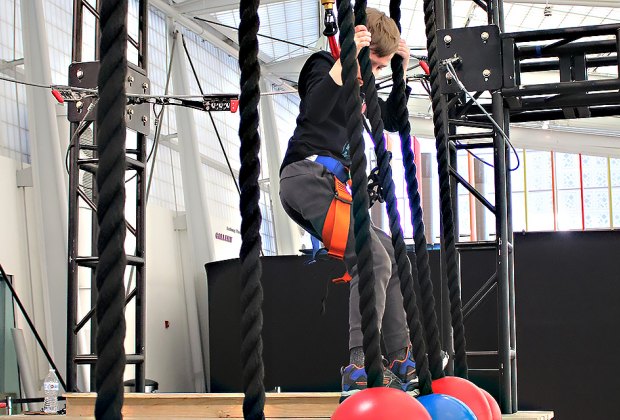 The ropes course is a challenge to conquer but left my kids with greater self-confidence.
While the survival skills are essential, the most exciting part of the whole experience is the Adventure Zone Ropes Course and Zip Line. The structure has several obstacles and activities that teach kids balance, focus, coordination, concentration, and problem-solving. My kids didn't have an easy time completing the course, getting stuck between ropes and slipping off moving beams, but they felt proud and resilient afterward.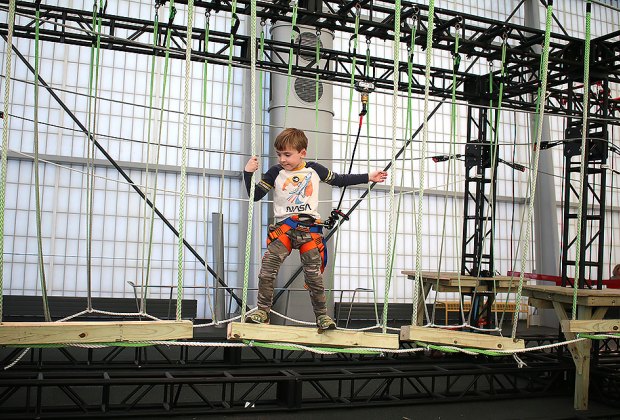 Survival: The Exhibition builds real-world survival skills and the confidence to use them to overcome obstacles.
Know Before You Go​
Survival: The Exhibition is now open and runs through September 13, 2020.
Admission to the exhibit is $7 on top of NYSCI admission, currently $16 for adults and $13 for children ages 2-17. Discounted combo tickets are available.
Timed-entry tickets allow visitors to enter at the top of every hour, so plan your visit accordingly.
The exhibition is open to kids of all ages. However, Adventure Zone participants must be at least 4 feet tall and weigh more than 35 pounds. My 5-year-old barely met the cutoff and had a tough time moving through the course. My 8-year-old had a much easier time navigating it.
While the imagery of natural disasters isn't outwardly scary, and there's no official minimum age, we'd recommend not visiting with a child under the age of 5. My son wasn't upset by what he saw and could understand the lessons being taught.
Photos by the author