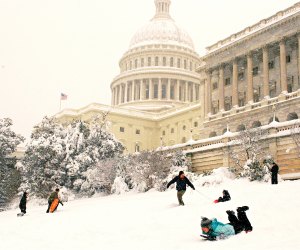 35 Fun Things To Do in Winter with DC Kids
Of course, winter in the Washington, DC area can be a parenting challenge. Staving off cabin fever with a house full of young children is enough to make parents reconsider the wisdom of living near the nation's capital.
We at Mommy Poppins DC are here to help you keep boredom at bay during this season of snow and sleet. And we're confident that with everything Washington, DC has to offer, even the most finicky kids will remain entertained until the warmer weather returns in April.
So let's not belabor the introduction here. What follows is a list of some of our favorite winter activities in and around the nation's capital sure to provide an ideal break from winter fatigue. They include museum hopping, sledding, ice skating, even a nature walk or two.
So enjoy, and don't forget to check our events calendar regularly for more fun ideas in the DC area as they develop. And remember, ​subscribe to our FREE newsletter for the best events, ideas, and happenings in the area delivered right to your inbox.
Sledding by the U.S. Capitol
What could be better than an afternoon of sledding in the shadow of DC's historical district. Since 2016, outdoorsy families have been able to go sledding down Capitol Hill. It can get crowded, but there's usually plenty of room for all.
Ice Skating in Washington, DC
DC, Northern Virginia, and Maryland boast a number of entertaining ice rinks. You can see our list here. So grab your skates and glide around the ice. Indoors or out, you're guaranteed a good time.
Youth Soccer Clinics for DC Kids
Hill Center hosts a series of youth soccer clinics at the Old Naval Hospital each winter. It's fun and fundamentals at these noncompetitive clinics.
RELATED: DC Ice Skating Rinks for Great Family Fun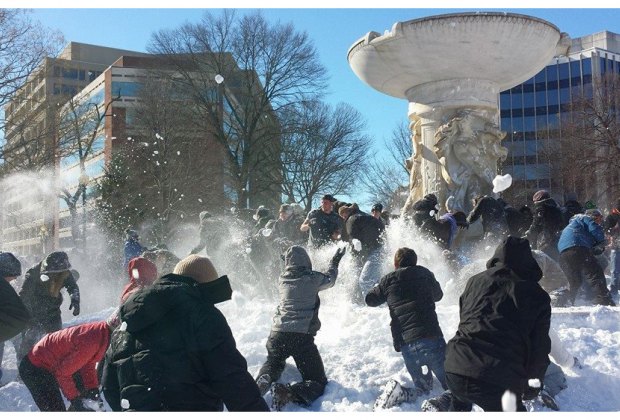 ​
Enjoy a safe snowball fight with DC's resident experts. Photo courtesy of the Washington DC Snowball Fight Association/Facebook
A DC Snowball Fight
The Washington DC Snowball Fight Association, celebrating its 10th anniversary in 2020, promises an old-fashioned outdoor donnybrook once snow hits the capital area. Join a "battle" or start one of your own with family or friends. We've been assured it's kid-safe.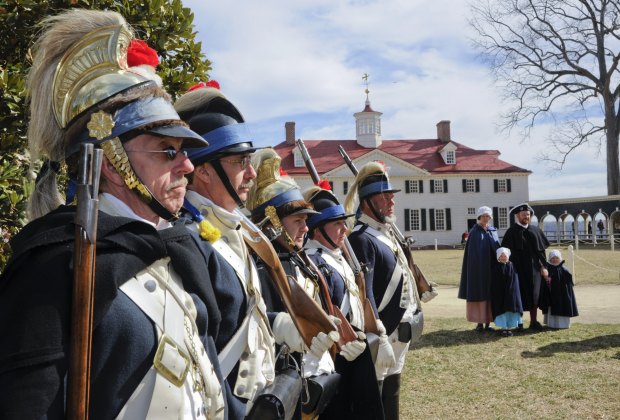 Join in the celebration of George Washington's birthday at Mount Vernon. Photo courtesy of Bob Creamer for Mount Vernon
Mount Vernon with Kids
Whatever the weather, it's always worth a visit to Mount Vernon, where kids can celebrate the "Father of the Country." What better time than during Presidents Week (February 17-23 in 2020) or on Washington's birthday itself, February 22.
A Nature Center Right in DC
The Rock Creek Nature Center in DC offers kids a chance to discover the natural world. For an out-of-this-world experience, check out the center's planetarium, the only one in the National Parks Service system.
Stroll the Wharf in DC
The Wharf has re-energized the DC area. Tour the Potomac River harborfront with the kids and enjoy dining, strolling, skating, and more.
DC's St. Patrick's Day Parade
Celebrate the contributions of the Irish to America at DC's 50th annual St. Patrick's Day Parade on March 15, 2020. The route travels along Constitution Avenue NW between Seventh and 17th streets NW.
Make Some Maple Syrup in Baltimore
Who doesn't love maple syrup? The Lake Roland Nature Center in Baltimore sponsors a low-cost maple sugaring hike on February 29, 2020, where kids can tap trees, see sap cooking into syrup, and the taste a variety of different syrups.
Celebrate the U.S. Botanic Garden's 200th Birthday
The United States Botanic Garden is celebrating its 200th anniversary in 2020. Why not take a day to stop and smell the flowers with the kids. If the weather is uncooperative, kids can tour the conservatory. The best part? Admisson to the botanic garden is always FREE.
Skating and Shopping in Canal Park
Canal Park in DC is always worth a visit. In addition to its seasonal markets, this sustainable outdoor space in the Capitol Riverfront area, which opened in 2012, features one of DC's most unique ice rinks, designed to give visitors the impression of skating on a Dutch canal.
RELATED: 50 Things to Do with DC Kids Before They Grow Up
Meet your favorite players at Nationals Winterfest. Photo courtesy of the Washington Nationals
World Series Champion Washington Nationals Winterfest
The 2019 World Series champion Washington Nationals hold their annual Winterfest at Nationals Park every January. Here's a chance to meet some of DC's hometown heroes.
Thrill to the Capitals, Enjoy Wizards' Kids' Day
Speaking of sports, the 2018 Stanley Cup champion Washington Capitals and the NBA's Washington Wizards are in action all winter long at Capital One Arena. The Wizards hold an annual Kids' Day in mid-January, where families can interact with the team, share crafts, and more before an afternoon game.
Dribble with the Globetrotters at Capital One Arena
While we're on the subject of basketball, kids can thrill to the wizardry of the world-famous Harlem Globetrotters in a one-day-only performance March 21 at Capital One.
Museums Galore: Start with Wegmans Wonderplace
DC has so many kid-friendly museums, it's hard to know where to begin. Why not start at Wegmans Wonderplace at the National American History Museum, where kids can use elements from adult exhibits to cultivate their own learning.
Family Programs at the National Museum of Natural History
The National Museum of Natural History sponsors a series of family programs on the second Saturday of every month, where museum educators lead kids in a program that combines reading, other activities, and a chance to look more closely at the museum's collections.
RELATED: The Best Mommy-and-Me Classes in the DC Area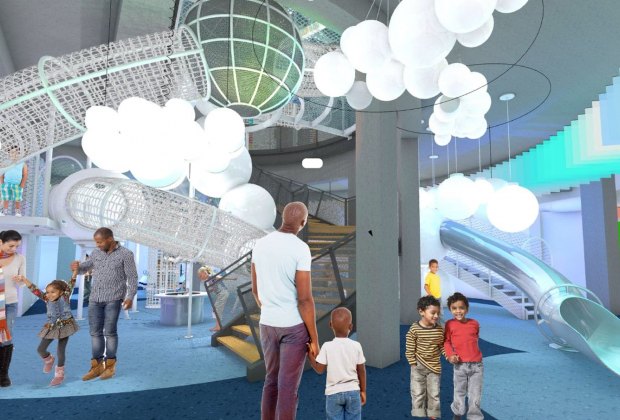 Planning to visit the National Children's Museum Don't miss the Dream Machine. Rendering courtesy of the museum
National Children's Museum Opening in DC
The much-talked-about National Children's Museum is scheduled to open in January 2020, promising imaginative exhibits for children toddler age through 12. The museum is located on Pennsylvania Avenue in Woodrow Wilson Plaza.
Port Discovery Children's Museum in Baltimore
Can't wait for the National Children's Museum opening? Make a trip to Baltimore and visit another of our favorite destinations, the Port Discovery Children's Museum in Baltimore.
Go Sleuthing at the International Spy Museum
See What's New at the National Zoo
Visit the Smithsonian's Apollo 11 Exhibit
Build Something Grand at the National Building Museum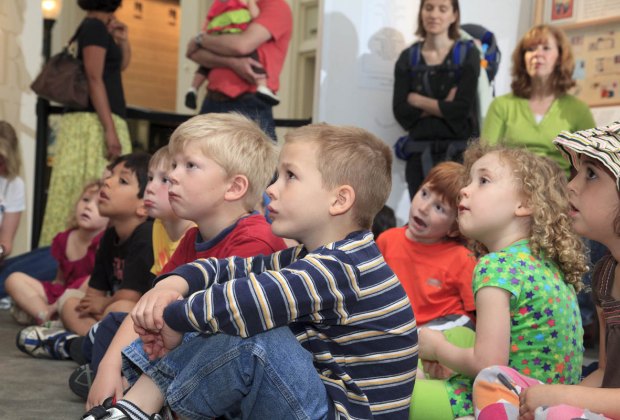 Storytime at the National Postal Museum will keep them mesmerized. Photo by Eric Long
Enjoy Storytime and More at the National Postal Museum
Monday is storytime day at the National Postal Museum. Children can build important developmental and social skills through books, activities, songs, and more.
Learn Stamp Collecting at the National Postal Museum
Speaking of the Postal Museum, why not introduce your child to the nuances of stamp collecting at one of the museum's FREE Tuesday or Thursday philately sessions.
Diversity Programs for Kids at DC Museums
If you're doing a museum tour, take a few minutes to teach your children about cultural and ethnic diversity at the National Museum of the American Indian or at the University of the District of Columbia's Center for Diversity, Inclusion and Multicultural Affairs, set to open in late February. Hint: The new UDC diversity center seems better suited for preteens and older.
MLK Events for Kids in DC
What better time to visit the Martin Luther King, Jr. Memorial than on MLK Day itself, Monday, January 20, 2020? The memorial to the civil rights icon is near the National Mall, and Lincoln and FDR memorials.
Enjoy Library Fun in DC, Maryland, and Virginia
DC area libriaries are full of excitement during the winter. You can start with the Library of Congress and its rich historical archives, but don't forget neighborhood libraries in Georgetown and the West End, and the Martha Washington Library in Alexandria. See library websites for up-to-date children's programs.
Children's Theater in the DC Area
Children's theater is in full bloom in the winter. In January 2020 Narnia headlines at the Thomas Jefferson Community Theatre in Arlington; it's Mouse on the Move at Imagination Stage in Bethesda through mid-February, and Rapunzel at the Center for the Exploration of the Puppet Arts in Glen Echo, Maryland.
RELATED: DC Museums That Are FREE Every Day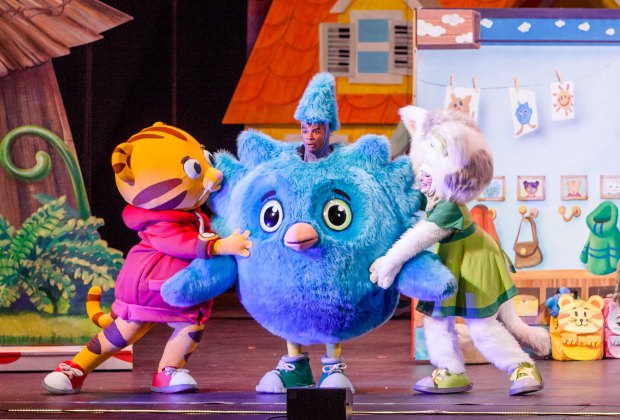 Delight in Daniel Tiger's Neighborhood Live. Photo courtesy of Mills Entertainment
Daniel Tiger and More at the Warner Theatre
Are your kids into Daniel Tiger? If so, you won't want to miss Daniel Tiger's Neighborhood Live January 19 at the Warner Theatre. Also at the Warner, on January 24 the all-girl band Itzy introduces itself to the DC audence.
A Tea Party for Kids in Downtown DC
In the mood for tea and a bit of culture? Treat the kids to a traditional English tea party at Lady Camellia in downtown DC.
Explore Play Spaces in and Around DC
The DC area has plenty of play spaces for kids who just need to release some energy. Among our favorites: the Bethesda Playseum and Kid Junction in Chantilly, Virigina.
Escape with the Kids to a DC Escape Room
Chocolate Festival in Fairfax, Virginia
Fairfax, Virginia hosts its annual Chocolate Lovers Festival January 31-February 2, 2020. Wannabe bakers can take part in the Chocolate Challenge with winners in 12-and-younger and teen divisions, while all can enjoy Taste of Chocolate displays. FYI: It's FREE to view Taste of Chocolate displays, but there are fees to sample the goodies.
Paw Patrol Live at George Mason
That same weekend in Fairfax (January 31-February 2, 2020), it's Paw Patrol Live at George Mason University. Young kids can thrill to the antics of the lovable pups at a single show Friday night, three on Saturday, and two more on Sunday.
Super Bowl Sunday Cooking Class for DC Kids
Having a Super Bowl party? Maybe you want the kids to cook. On Super Bowl Sunday (February 2, 2020), Maggiano's in DC hosts a kids' cooking clinic, where chefs demonstrate how to make the restaurant's acclaimed four-cheese revioli step by step. Before the class, enjoy a breakfast buffet and other kids activities.
Writer James Smith contributed additional reporting.