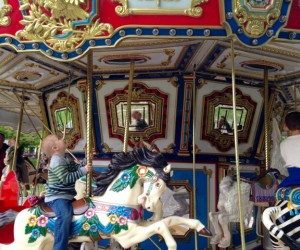 100 Things To Do in Boston with Kids Before They Grow Up
There are so many things to do in Boston with kids. The city of Boston – steeped in history, compact, easy to navigate (on foot, at least) – offers a wealth of opportunities for family fun that are hard to pass up.
With our list of top 100 family activities in Boston, Mommy Poppins Boston can help to make sure you don't miss any of the best, most memorable things to do. We've included well-known favorites like the Esplanade and Boston Common, but of the 100 not-to-be-missed, family-fun things to do we've come up with in and around Boston, there are likely a few you haven't done.
Here they are, then (in no particular order):
Go on a behind-the-scenes tour of Fenway Park
Take in an IMAX movie at the New England Aquarium
Indulge at the Chocolate Bar at the Langham Hotel
Talk art at and go on a free playdate with your kid at the Institute of Contemporary Art (ICA)
Tour the State House and look for the special cod fish on display
Get to the Free Friday Flicks at the Hatch Shell early enough to find a really great spot on the lawn
Throw tea crates over the side of a ship at the Boston Tea Party Ships and Museum
Bring a picnic to the Boston Pops' Fourth of July concert at the Hatch Shell
Stop and smell the wildflowers at Garden in the Woods in Framingham
Take in the panoramic view from the top of Washington Tower at the Mount Auburn Cemetery
Visit the Skywalk Observatory at the Prudential Center
Find a good spot to cheer on Boston Marathon runners (Apr)
Catch a show in Brookline at Puppet Showplace Theater or The Regent Theatre
Take advantage of Friday evening $1 admission at the Boston Children's Museum
Go ice skating (winter) and cool off in the fountain (summer) at the Frog Pond
Enjoy a glassblowing demonstration at the Diablo Glass School
Learn something about the Kennedy legacy at the JFK Presidential Museum and Library
Explore science and technology at the MIT Museum
Visit the Old South Meeting House
Try the chowder that has been served at every presidential inauguration since 1981 at Legal Sea Foods
Take a ride on the one-of-a-kind Swan Boats in the Public Garden
Watch BC, BU, Harvard and Northeastern battle it out during the Beanpot hockey tournament (Feb)
Sit in the bleachers for a Red Sox game at Fenway Park
Visit with gorillas, giraffes, and lions in the middle of Boston at the Franklin Park Zoo
Sample some Italian pastries from Mike's Pastry (or any of the other tempting bakeries) on Hanover Street in the North End
Take a walking tour of Boston
Explore the Museum of Fine Arts (MFA)
Visit the Bunker Hill Museum, across the street from the monument (free)
Listen to a story at the Harvard Coop, downstairs in the Children's Bookstore (Tue & Sat)
Take a Walk with an activities backpack or go snowshoeing around the grounds of Gore Place
Visit the USS Constitution Museum
Tour Fort Warren on Georges Island
Watch the Bruins at the Garden
Enjoy afternoon tea overlooking the Boston Public Garden at the Four Seasons
Go to the BPL's Central Library; read a story in the Margret and H.A. Rey Children's Room and have lunch in the courtyard
Take a Boston Whale Watch cruise—whale sighting guaranteed!
Walk through the gates of Harvard University and around Harvard Yard
Hike the trails that ring Walden Pond and see a replica of the one-room cabin where Thoreau conducted his "experiment in simplicity." (spring/fall)
Watch the street entertainers at Faneuil Hall Marketplace
Browse at the SOWA Open Market on a Sunday afternoon
Learn to sail on the Charles River
Visit the Hull Lifesaving Museum
Learn about American history and see the annual Family Trees exhibit at the Concord Museum
Take a Chocolate Trolley Tour
Try some of the hands-on activities at the Museum of Science's Discovery Center
Hike or ski the Blue Hills and explore the Blue Hills Trailside Museum
Step inside the world at the Mapparium at the Mary Baker Eddy Library
Visit the Paul Revere House
Get in touch with nature at the Arnold Arboretum
Be part of the Fisherman's Feast in the North End (Aug)
Visit one of Boston's unique bookstores
Visit the 9/11 Memorial at Logan Airport
Cheer on the Celtics at the Garden
Go to Improv Boston for a Saturday Family Show
Cheer at "The Game" when it's Harvard's turn to host Yale (Nov)
Visit the reconstructed Chinese House at the PEM in Salem
Take a self-guided walk along the Freedom Trail
Try a bunch of different flavors at a J.P. Licks
Follow the Black Heritage Trail and explore the history of Boston's 19th century African American community.
Take a Duck Boat Tour that includes a splashdown into the Charles
Ride a carousel at the Frog Pond or on the Greenway
See the New England forests, over 500 taxidermy animals, and Glass Flower Exhibit at the Harvard Museum of Natural History
Start a holiday tradition: Christmas Revels (Dec)
Take a tour of the Old North Church, where "the" lanterns were hung
Bring the little duckies to the Duckling Day Parade in the Public Garden (May)
Try some new food at one of the many Faneuil Hall Marketplace Food Court booths
See the Boston Ballet perform The Nutcracker (Nov/Dec)
Learn more American history at the Museum of National Heritage in Lexington (free)
Observe the night sky through telescopes and binoculars at the Coit Observatory at Boston University (free; Wed evenings)
See the antique fire trucks or celebrate a birthday at the Boston Fire Museum
Join the crowds celebrating Independence Day during Boston Harborfest (July)
Take a ferry out into Boston Harbor
Visit the farm animals, owls, geese and nature center at Drumlin Farm
Check out the Waterworks Museum
Look for artifacts of bygone times and sea glass on Spectacle Island
Explore science & technology during the Cambridge Science Festival (Apr)
Ring in the New Year amid ice sculptures, concerts, and fireworks during Boston's First Night (Dec)
Stroke a cow nose ray or bonnet head shark at the New England Aquarium's Shark & Ray Touch Tank
Bike along the Minuteman Bikeway
Tour the USS Constitution (Old Ironsides)
Swim in Walden Pond
Sample some chocolate during a Taza Factory tour
Watch a Revolutionary War-era re-enactment during Patriots' Day in Concord (Apr)
Join a DCR Park Ranger for a tour of the Charles River Dam
Have afternoon tea at the American Girl Place (Natick)
Explore the sculptures at the deCordova Sculpture Park and Museum in Lincoln
Explore the working waterwheels, hot forges, mills, and historic 17th century home of the Saugus Iron Works (Apr-Oct)
Cheer on your favorite college during the Head of the Charles Regatta (Oct)
Bring the family to a New England Revolution game
Climb the 294 steps to the top of the Bunker Hill Monument
Rent a kayak and paddle on the Charles
Spend the day at Wingaersheek Beach in Gloucester or at one of the other top Boston area beaches for families
Walk along the Esplanade and stop at one of the playgrounds along the river
Photo opp! Climb on the Make Way for Ducklings sculptures in the Boston Public Garden (read the story, too!)
Have some fresh seafood — in the Kennedy Booth if possible — at the Union Oyster House
Sit way up front for a Blue Man Group show
Visit the Topsfield Fair (Aug/Sep)
Explore the night sky at the Charles Hayden Planetarium
---
Originally published December 2012 by Audrey T.; updated November 2014, January 2015