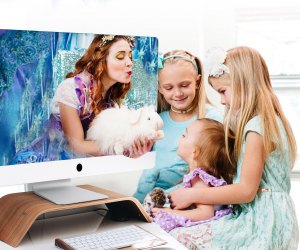 Best Virtual Party Performers and Kids Birthday Parties to Celebrate Online
Make your child's birthday special even while staying at home with virtual parties offered by top performers and kids party providers.
Social distancing doesn't need to be socially isolating. Take advantage of technology to help your birthday boy or girl celebrate with friends and family. Many favorite party providers are transitioning their acts to digital platforms like Zoom or Google Hangouts so kids and their friends can still have all the great group activities of a traditional birthday party. As an added bonus, these virtual parties are often much more affordable than their in-person alternatives.
Read on for our suggestions on some of the best virtual party providers to try, and get more parent-tested resources for this period of social distancing in our Stay-at-Home Guide.
Virtual Birthday Party Performers
BubbleDad Birthday Parties
Bubbledad (performer/educator Chris Catanese) has brought smiles to tens of thousands of kids and adults from Montauk to the Rocky Mountains. He'll wow kids with a bubble show, creating square bubbles, bubble characters, smoke bubbles, bubbles inside of bubbles and more. Then, he'll teach kids some of his bubblemaking secrets, sure to keep them busy for hours after the party ends.
A Faery Hunt Fairy (or Troll) Visit or Party
Who couldn't use a little magic in quarantine life? How about a virtual visit from a real-life fairy to help celebrate your little one and up to eight of their closest friends. A 15-minute live faery visit from a trained performer includes stories and music and starts at $50. Noll the Friendly Troll is also available.
Happily Ever Laughter
Happily Ever Laughter offers several different party and play date packages to make a birthday, or any day, special. From one-on-one character visits to group play dates, its affordable offerings can even make a gift "magically" jump from the screen to your child's room.
Happy Birds
Personalize your child's virtual birthday party or any special event with six people-friendly parrots that talk, sing, and perform over 25 tricks. They can ride a bike or scooter, play basketball, roller skate, sing songs, and more. They also offer educational virtual school and library programs for at-home learning and fun.
My Fairytale Party
Surprise your child (and their friends) with a visit from their favorite princess, hero, or another character right in your home. Through well-orchestrated, show-stopping fun, the entertainers bring wonder, silliness, and heartfelt memories to the special day. Pre-recorded character video messages are also available.
Sammie & Tudie's Imagination Playhouse
Sammie & Tudie have been cracking kids up for more than 20 years. During this time of social distancing, Sammie & Tudie have created a special 30-minute Zoom show guaranteed to make any birthday child's day special. Recommended for children ages 3 to 8.
Virtual Parties and Play Dates
Got Game Virtual Parties
Got Game 2.0 is now offering customized birthday parties, family fun nights, and team-building events for kids and adults. From virtual sports and games to arts and music, create a live, interactive virtual get together that's one-of-a-kind.
HealthBarn USA Birthday Parties
HealthBarn USA specializes in teaching children how much fun cooking and eating healthy can be. Your birthday child can choose a delicious recipe from healthier versions of cookies, brownies, or chocolate chip muffins (all recipes include pantry staples and are easy to modify). For one hour, guests ages 3-15 transform into natural chefs at the virtual Birthday Barn Bash. The birthday child is featured throughout the experience, but especially during a fun game.
Snapology NYC Play Dates and Parties
If your LEGO fan has a special day coming, a Snapology play date or party might be just the thing. Pick from one of many themes and your Snapology instructor leads children in fun and engaging activities while they socialize and catch up with their friends.
Taste Buds Kitchen Cooking Parties
Plan a birthday bash or virtual playdate for children ages 3.5-12 to connect virtually with friends. Pick from a choice of menus including handmade pizzas, soft pretzels, applesauce muffins, mix-in cookies, and more. Parties include games, social time, and a birthday cake blow-out.
Yogi Beans Parties
Yogi Beans parties can host up to 25 kids. Your child can select a theme like a safari, outer space, unicorn island, birds, under the sea, or others and acts as the instructor's helper through a unique birthday experience with structured yoga activities, a choose-your-own-theme adventure, and a recording of the virtual party after class. The party ends with children singing happy birthday to the special birthday girl or boy.